If you're looking for ways to update or remodel your home, your bathroom is a great place to start. A beautiful bathroom can be your private little oasis away from the world, as well as being a major selling point if you ever put your home on the market. Hiring bathroom remodeling services can be a great way to increase your home's value!
So, what sorts of upgrades and enhancements are popular? Here are some of the ideas we've seen recently at Roto-Rooter California, as we've helped out with bathroom remodeling projects.
Design Ideas to Discuss with Your Bathroom Remodeling Service Providers
1. Great lighting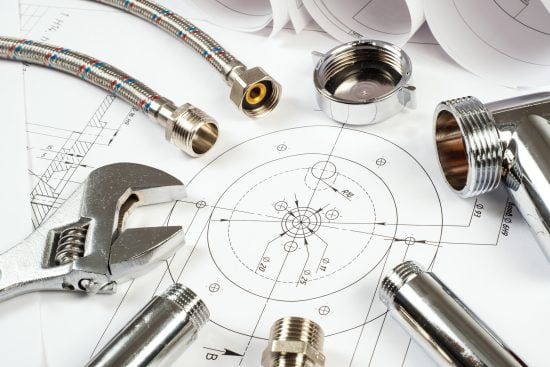 People often overlook lighting when upgrading their bathroom, but it's essential for setting the mood and ambiance. Even the best new faucets and other fixtures will look cheap if they're set up under cheap fluorescent or LED bulbs. Moody or even colored lighting can make a bathroom look amazing, without costing too much.
2. Black is back
Who says bathrooms have to be covered in clinical white tiles? Black bathrooms are becoming extremely popular since accent colors – such as gold or chrome fixtures – really pop when put against black tiles. It's a design choice that's all about luxury, while instantly grabbing the eye whenever someone sees the bathroom.
3. Be practical with flooring
It's nice to have a beautiful bathroom floor, but keep in mind that you have to be able to safely walk on the floor even when it's wet. Be sure to pick the flooring that offers plenty of grips! This is particularly important if there are people in your home with mobility issues or who might otherwise be extra prone to slipping.
4. Use practical sustainable fixtures
Even luxury bathrooms are looking to reduce water and power waste! It's absolutely possible to remodel your bathroom with low-flow fixtures, smart showers, and energy-efficient devices that will minimize waste. That helps keep your ongoing bills lower while helping the environment by reducing your own footprint.
5. Choose floating storage, not cabinets
Cabinets are old-fashioned and can add to the perception of clutter in a bathroom – not to mention taking up a lot of space. Modern smart storage solutions can seemingly float, or be tucked away out of sight, which makes your bathroom feel bigger.
Roto-Rooter California is here to provide excellent bathroom remodeling services! No matter your dream bathroom, we have the tools and expertise to ensure your upgrades are done efficiently and installed properly the first time.
Contact Roto-Rooter to discuss the project or call us at 800-491-ROTO.