THE EXPERTS YOU'VE TRUSTED FOR OVER 80 YEARS
Roto-Rooter Plumber in
Oak Park, CA
Call Now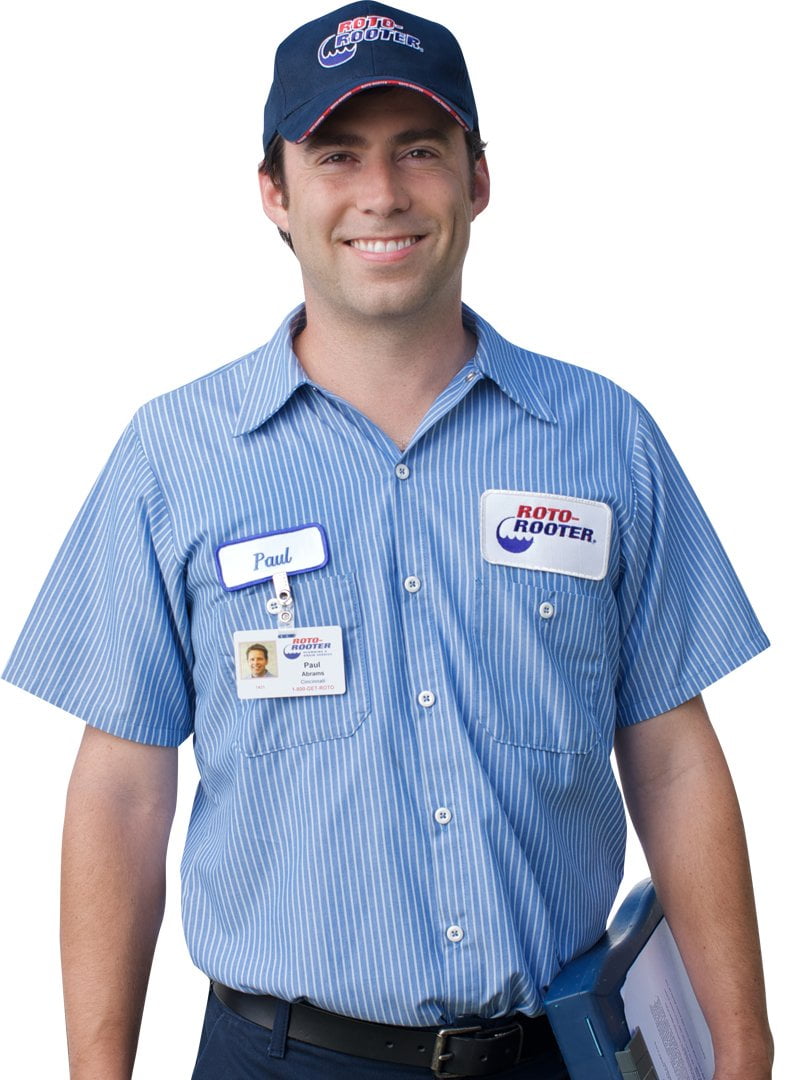 24-Hour Emergency Plumbing and Drain Cleaning Services in
California
Roto-Rooter's 24-hour emergency plumbing and drain cleaning services have the training and experience to get to the source of your clog and fix the problem fast. Our certified technicians use state-of-the-art equipment to quickly clear clogged pipes in kitchens, bathrooms, basements, and more. Clean drains are only a phone call away. Schedule a technician today.
Does your bathtub or shower drain slowly? Is your bathroom or kitchen sink overflowing? Does your toilet get clogged easily? Is your main sewer line backed up? If any of your drain lines are clogged or drain slow, drain cleaning service is our specialty. We will come to assess the situation and solve the problem for you quickly, efficiently, and for a reasonable price.
Clogged drains are an often inconvenient and unpleasant problem. Having clogged drains and toilets often results in an overflow and an unsanitary environment for you and your family. Our plumbers know how to get the job done fast. We are experts at cleaning all types of blocked drains and removing them completely.
When you need plumbing services – whether it's because the faucet is leaking, you have a clogged toilet, or your kitchen sink is overflowing – you need a plumber who will be there quickly to fix the problem. With 24-7 emergency plumbing services offered by Roto-Rooter Plumbing, you can trust that your issue will be resolved quickly and efficiently every time. Call us today to request a service or repair quote.
Water Damage Repair and Emergency Water Cleanup Services in
California
Water damage can come from many sources, including flooding, leaks, and burst pipes. It can cause extensive damage to your home or business, leading to mold growth, rot, and structural problems. Fortunately, water damage restoration is a key part of the home repair process. Water cleanup involves removing all the water from your property and drying out the area to prevent further damage. This can be a difficult and time-consuming task, but it's essential to preventing further problems. Flood damage restoration is similar to water cleanup, but it also includes repairing any damage caused by the water. This may include replacing drywall, flooring, and other materials that have been damaged by water. Burst pipe repair is another important water damage restoration service.
If you find yourself in one of these situations, it's important to know you have a team standing behind you to help. This is Roto-Rooter's promise—we'll arrive as soon as possible to stop the water from spreading to new areas in order to help limit the damage. And though getting your home or business damaged by water is a seriously devastating event, we'll make sure that once the damage is cleaned up, you're back on track with your schedule.
The Most Trusted Name in Plumbing Since 1935
Roto-Rooter provides dependable residential and commercial plumbing services. From emergency plumbing to drain cleaning, sewer cleaning to pipe work, Roto-Rooter can help you with any plumbing issue. Roto-Rooter plumbers are fully insured and licensed. No plumbing job is too big or too small for our professional and experienced plumbers.
Schedule an appointment by phone or online we'll come when it is convenient for you. Roto-Rooter plumbers can cover everything from toilet plumbing issues to kitchen drains, as well as sewage cleaning and repair. Roto-Rooter Plumbing & Drain employs the top plumbers & technicians for plumbing, drain & water cleanup, to best serve you.
Local Plumbing Services in
Oak Park, CA
Residential and Commercial Plumbing Services
Roto-Rooter provides full service plumbing repairs, maintenance, and water cleanup. Roto-Rooters plumbers offer commercial and residential plumbing services that customers can depend on for all their local plumbing needs.
Trusted and recommended since 1935, Roto-Rooter is the premier supplier of plumbing and drain cleaning services. Homeowners and businesses depend on Roto-Rooter 24 hours a day, 7 days a week. Our specialty is emergency services. We stand by and guarantee our work. Your call will be answered by a trained customer service representative who will deal with your request quickly and schedule service at your convenience.
Quick Emergency Plumber Services
When it comes to supplying 24-hour emergency services, our local technicians are on call and ready to respond to your unique situation. We understand that plumbing crises dont wait for regular business hours to take place. Frequently, it seems emergencies wait to get the worst possible times. Our emergency services are available seven days per week, all year - including holidays. We offer commercial and residential plumbing services. While some clients call for an emergency plumber, others need the aid of a skilled plumber to unblock a clogged drain.
Water Heater Installation Professionals
Roto-Rooter is known as the dependable plumbing company that home and business owners can rely on to fix any plumbing issue. Our plumbing experts will provide water heater options and information to suit the needs of your home or business. Roto-Rooter plumbers always make sure water heaters are safe and up to code giving you peace of mind that everything will work properly.
Dependable & Reputable Plumbing Contractor
By calling our reputable, local plumbing company, you can count on our experts to provide the excellent installations which you've come to expect in the brand name Roto-Rooter. In case your sump pump is not functioning correctly, don't wait for your basement to flood, give us a call. We're the sump pump repair experts. Our plumbing specialists offer a full range of services which go beyond the scope of any emergency. Roto-Rooter provides the reassurance that residents have come to expect from a nationally recognized leading plumber.
Water Damage Restoration and Water Cleanup
Plumbing problems and water damage restoration are all frustrating. The plumbing & water damage restoration specialists at Roto-Rooter know this better than any plumbing company. Our understanding has created us America's largest supplier of plumbing services, sewer and drain cleaning and water damage.
Financing Available
Introducing New Promotional Plans
12 months 0% interest promotional plan that converts to a 120-month term with a fixed APR
No deferred interest
No payments are required during the 12 months 0% promotional period
A low payment factor of 1.32% after the 0% promotional period
1st 12 Months
Make no payments for the first 12 months. Pay no interest.
Months 13-132
Make equal monthly payments of $13.21 for every $1000 you borrow.
Why Choose Roto-Rooter
Emergency Plumbing Service

When you're facing an emergency, you want a fast, professional plumber and nobody gets there faster or does it better than Roto-Rooter.

Available 24/7

When you're facing an emergency, you want a fast, professional plumber and nobody gets there faster or does it better than Roto-Rooter.

Licensed & Insured

When you're facing an emergency, you want a fast, professional plumber and nobody gets there faster or does it better than Roto-Rooter.

Well Known Reputation

When you're facing an emergency, you want a fast, professional plumber and nobody gets there faster or does it better than Roto-Rooter.

Trusted & Recommended Since 1935

When you're facing an emergency, you want a fast, professional plumber and nobody gets there faster or does it better than Roto-Rooter.
Recent Customer Reviews
Melinda G.

We called for what we thought was a simple clogged drain. Our house was built in the 1950's and we have had drain issues for the last several years. We knew that one day it would be a bigger job than expected, and this was the day. Several of our cast iron pipes under the foundation had finally corroded, and they needed to be replaced. Jesse and his supervisor were the picture of professionalism and transparency, and clearly explained everything that they suggested needed to be done, while listening to our own questions and concerns every step of the way.We are beyond happy with the big job they did, and look forward to using not only this company, but especially Jesse for any future plumbing needs we might encounter !!

Robert D.

Teddy, the Rotor Rooter technician who performed the service on the blocked drain in my kitchen sink was polite, informative and performed a thorough clean-up when his successful work was completed.

Brad C.

Great service from Jessy Torres. Showed up on time and was ready to fix my emergency water leak. Pricing was reasonable considering I was in a bind at 11:00p with a busted pipe. Jessy had all of the needed parts in the van and was able to complete the service in just a few hours.Jessy was professional and respectful to my home and should be considered a valuable employee to the company. Appreciate the work.

Phyllis P.

Edgar was very professional, on-time and respectful. There were some complications, so he had to return the next day, but the job was completed. We had some leakage into another room, but I am not sure this could have been helped. Would definitely use Roto-Rooter again.

Mike B.

We had a main waterline break. Roto-Rooter sent out repair technician Timothy on Easter Sunday. Timothy did a first class job! The repair location was in a fairly deep sandy hole with difficult existing piping conditions, but Timothy got the job done efficiently and effectively. We are very thankful!!